Demir Kapija's Popova Kula Winery
While visiting Demir Kapija, we spent two nights in Popova Kula, a small winery that also operates as a hotel. We had a chance to tour the grounds, spread across a vine-blanketed hill outside of town, and try out a few of their best wines.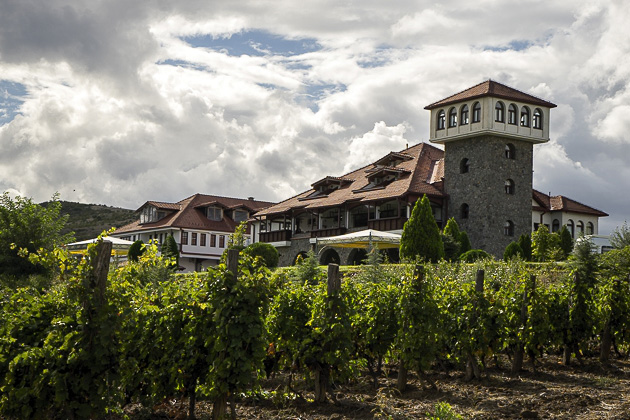 In addition to its hotel and restaurant, the Popova Kula offers a number of hiking tours into the area surrounding the winery, complete with box lunch and wine. This is an opportunity we would normally leap at, but we'd already done plenty of hiking in Macedonia and not nearly enough vegetating. No, after checking into our room, the only exercise I could endure was a trek to the minibar to grab a bottle of Chardonnay.
After a long, wine-soaked nap, we did manage to rouse ourselves for a tour of the winery. Established in 2004, Popova Kula is a small operation that works with eleven varieties of grapes, a few of which are grown on-site. We visited the fermentation rooms with their stainless steel tanks and intoxicating aroma, and went into the hall where the wine is stored in barrels. Our tour was short and sweet, since our multi-tasking guide had to return to the reception desk, but we didn't mind. After all, a wine tasting awaited!
Here's yet another reason to love Macedonia: you can enjoy a wine tasting, complete with five different wines and generous plates of cheese, meat and bread, for just €10. Each of the wines we tried was excellent, from the semi-dry Muscat Ottonel to the intense Vranec Reserve, and it was a pleasure to sit on the terrace of the Popova Kula, while the sun settled down behind the gorgeous Macedonian hills.
Demir Kapija Popova Kula Winery Photos