A Hike from Janče to Galičnik
After staying the night at Lake Mavrovo, we got on the road as early as possible, arriving in Janče by 8am. There was a reason for our haste; the weather reports were calling for rain by noon, and we had planned on completing a four-hour hike to Galičnik and back.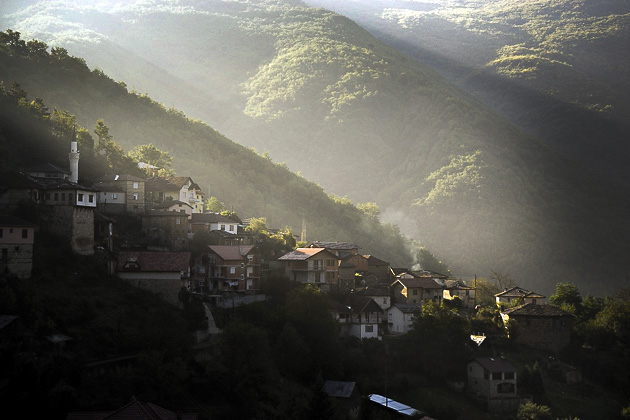 In the morning, the weather couldn't have been better, so we didn't delay, walking straight from the parking lot of the Hotel Tutto into the hills. The trail was well-marked, presenting no orientation problems, and we made swift progress. Not that this was an easy stroll: the four-kilometer hike is steep, with an elevation gain of 700 meters. At our no-nonsense pace, it took about an hour and a half to complete, but two hours is probably more typical.
Both Janče and Galičnik are within the bounds of the Mavrovo National Park, and the trail that connects them leads through raw nature; in fact, an acquaintance of ours had once seen a bear on this trail. We didn't see anything quite that wild… except, of course, for the panoramic views, which were insane. The valley in which Janče lies is dotted with hillside villages, and the higher we trekked, the more of them we could see.
Soon enough, we came upon Galičnik. This Mijak mountain town is home to a famous wedding festival which, in August, we had unsuccessfully tried to visit. The hike from Janče is actually a popular way to reach the festival. Had we known at the time, we would have never tried to force our tiny rental car up the steep road to Galičnik. Instead, we would have driven to Janče and walked. It seems a much better option.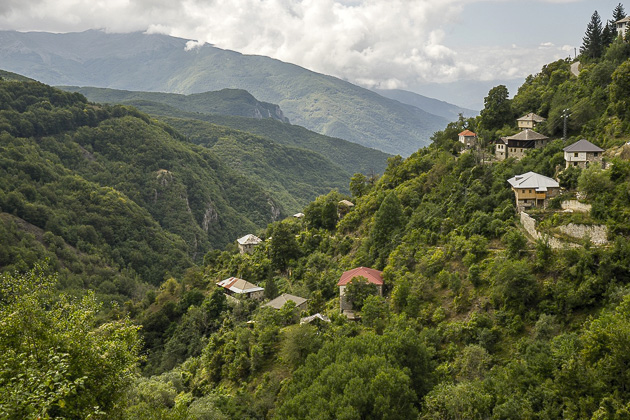 There was no festival in Galičnik today, but that hardly mattered: this town is special at any time of year. Set high in the mountains, completely remote, it's a place for people who really want to get away from it all. Our trail ended at the parking lot of the Hotel Neda, where we paused for lunch. The waitress strongly suggested the house kačamak, served with freshly-made goat cheese and cream, so that is what we ordered. Macedonians swoon over Galičnik's cheese, and for good reason… it's incredible.
I would have happily stayed for a coffee and perhaps a second round of kačamak, but the sky was darkening swiftly. We walked as swiftly as possible downhill back to Janče, but we weren't fast enough. The clouds burst when we were about a kilometer away, and by the time we straggled into the Hotel Tutto, we were soaked to the bone. Happily, the hotel was a nice place to dry off and recover. The rooms are comfortable, and the restaurant is tremendous. Breakfast was especially good; we were the only guests, but they still baked up an entire pita just for us.
Despite the rain, this had been an excellent day out. Another popular hiking option is to start in Janče, pause in Galičnik, and then continue on the longer downhill trail back to Lake Mavrovo. Transportation might be hard to arrange, but this would surely make for an unforgettable hike.
Locations on our Map: Hotel Tutto (Jan?e) | Hotel Neda (Gali?nik)
–Book Your Flight To Macedonia here