Mavrovo Lake and the Sunken Church
The Mavrovo National Park extends out into the hills south of Gostivar. Although relatively unknown outside the country, Mavrovo has long been a popular vacation spot for Macedonians, and it's not hard to see why. This is a region of stunning natural beauty, especially when seen from the shores of Mavrovo Lake.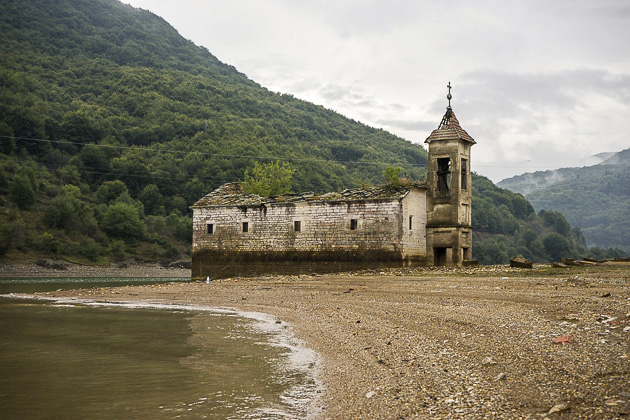 Mavrovo Lake is famous for its trout fishing, and the national park is a popular skiing and hiking destination. But we didn't have any plans, besides sightseeing and relaxation. After a leisurely drive around the lake, we arrived at the Church of Saint Nikolas, which was partially submerged when the Radika Dam was built in 1953. Usually, this abandoned church seems to float atop the waves, but during our visit, the lake's water level was too low, so all we saw was an old building stuck in the mud. Still worth a picture.
We now checked in to our giant hotel: the Makpetrol, owned and operated by Macedonia's state gas company. We were the only guests in the whole place, so rather than sit down by ourselves in the cavernous dining hall and spend the evening making references to The Shining, we left and had dinner at Golden Place, a new hotel on the western shore of the lake. The food was good, and the waiters were so attentive, I suspected they were teasing us. This place was far superior to our gas-company hotel, and I was annoyed to learn that its rooms were even cheaper.
Locations on our Map: Saint Nikolas Submerged Church | Makpetrol Hotel | Golden Place Hotel