From Lake Ohrid to Prespa
A scenic drive through the Galičica National Park connects Macedonia's two largest lakes, Ohrid and Prespa. For those willing to hike, it's possible to see both lakes from one mountaintop view.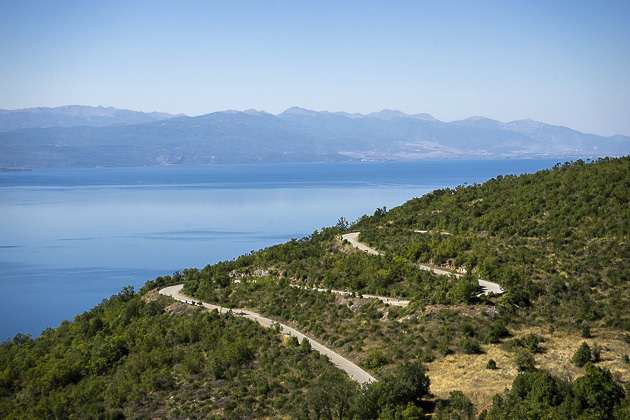 The drive between the two lakes should take about 45 minutes, but few people complete it so quickly. The panoramic views are simply too nice, especially those of Lake Ohrid to the west, and the road has a number of spots to turn off. Because this is a national park, there's an entry fee, but the cost seems to be suspiciously variable. We paid fifty denar (about €0,40), but the next day we met a Dutch couple who had been charged €7. Be cautious.
As you crest the mountain and begin the descent to Lake Prespa, there's a spot to park. From here, two hiking paths depart. The southern trail is longer, steeper and more difficult, but although it offers the better views, we opted for the easier northern trail. "Easy," of course, being a relative term. The hike took about an hour, and was constantly uphill. The whole time, I could have sworn that we were just about to reach the top, but the ascent kept going and going.
Eventually, we made it to a radar station on the summit, from where it was possible to see both Lake Ohrid and Lake Prespa at the same time. On the much easier return, we noticed bunkers carved in the rock, possibly from World War I. I started to explore, taking a step into the darkness, but backed out after considering the very real possibility of stepping on a rusty old Bulgarian grenade.
Location of the Trailhead
The Trail We Hiked on Runstastic.com
–Great View From This Hotel At Lake Prespa