A Hike in the Pelister National Park
We dedicated one of the days we spent on Lake Prespa to the nearby Pelister National Park. Extending roughly from Prespa to Bitola and down to the border with Greece, this park was established in 1948 to protect 170 square kilometers of southern Macedonia's pristine mountain land.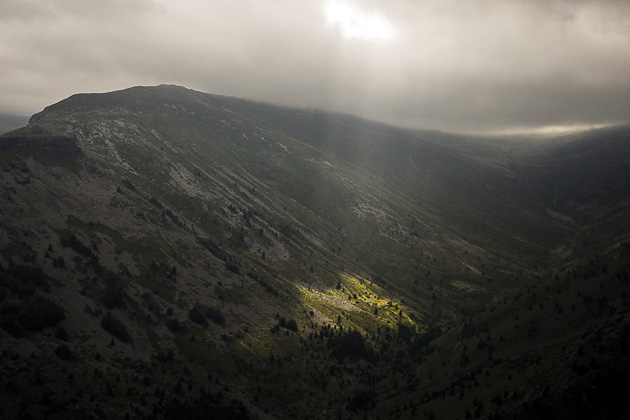 A nearly endless number of trails crisscross the park, leading to glacial lakes and the summit of Baba Mountain. But we wanted to keep the day simple, and were looking for a hike of less than five hours. The attendant in the park's visitor center suggested a walk which would lead along the "Historical Trail," before continuing on to the Jorgov Kamen and the Red Rocks.
Solitude has been a hallmark of our hikes in Macedonia; even the paths near to Skopje have been almost entirely empty. So it was surprising, and not necessarily unwelcome, to find other people on Pelister's trails. A half-hour after starting off into the woods, we came upon a family who invited us to sit down for a snack. They generously provided us us tomatoes, plums, pita, grapes and bread, even insisting that we take some with us "for later." We weren't hungry, but had been in Macedonia long enough to know that you never refuse a gift.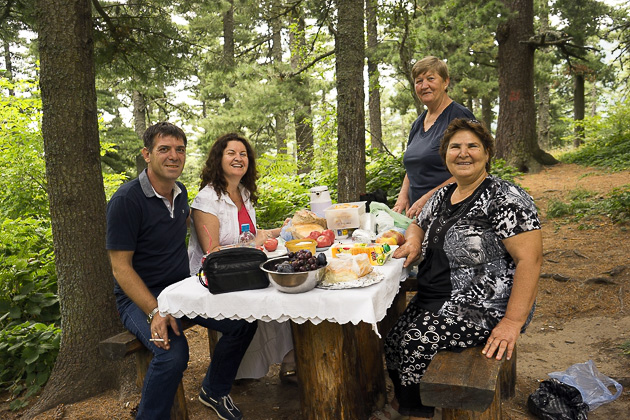 The Historical Trail was great. Every couple hundred meters, there was another information board relating stories from World War I, and we walked past a few old battlements. Pelister was part of the war's Macedonian Front, and its hills were the scene of multiple skirmishes.
Once the Historical Trail ended, our path went sharply uphill to an abandoned ski station, and then led us deep into the dark woods of Pelister. This particular hike was safe, since it's popular with humans, but the national park is home to bears, wolves and lynx, so exploring its more remote areas requires caution. Within an hour, we had reached the Jorgov Kamen. This large stone sits at the edge of an east-facing cliff, and enjoys a view over the valley below. It was the perfect place to pause and enjoy some of the fresh water we had earlier collected from a mountain spring; the quality of Pelister's water is renowned throughout Macedonia.
From Jorgov Kamen, the Red Rocks (Crveni Steni) weren't much farther, perhaps a half-hour walk. This was another large rock formation, which marked the end of our trail. The Red Rocks were the scene of a vicious battle in 1917 between Bulgarian and French troops, in which at least 14,000 soldiers lost their lives. Although I couldn't find anything confirming this, the name might be in reference to the blood spilled here. Today, the stain of war has washed away, and the Red Rocks are just another area of extreme natural beauty in Macedonia.
National Park Pelister – Website
–We stayed at the nearby Lakeview Resort at Lake Prespa