Bitola – Macedonia's Second City
Bitola may lag behind Skopje in terms of population and influence, but with its turn-of-the-century architecture, compact Turkish quarter, lovely churches and ancient mosques, it competes in terms of style. We spent a few days exploring the city, and enjoyed ourselves immensely.
Found in the far south of Macedonia, fifteen miles from the Greek border, Bitola has a population of 80,000, and is the country's second-largest city. Its name derives from an old Slavic word meaning "monastery," alluding to its former importance as a religious center. During the 500 years of Ottoman rule, the city was a regional powerhouse and capital of an administrative region which stretched from present-day Kosovo into Greece.
Bitola did not fare well after the fall of the Ottoman Empire. It was promised to Bulgaria in the aftermath of the Balkan Wars, but later was occupied by Serbia. Then World War I hit, and the city found itself directly on the Macedonian Front. Unlucky Bitola suffered intense bombing on a daily basis and, by the war's end, had been almost completely destroyed.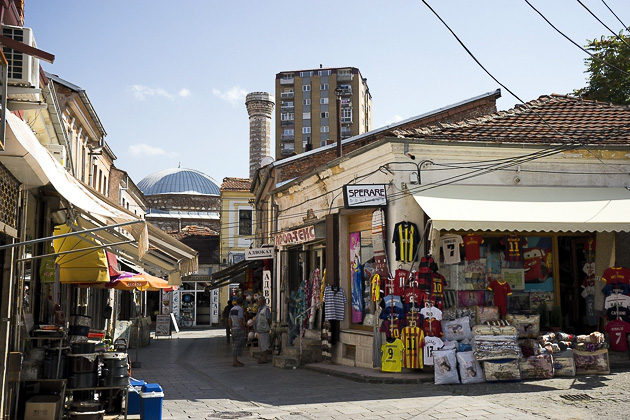 Luckily, Bitola has bounced back. Today, a pleasant, small-town atmosphere reigns in the bars and shops, particularly on Širok Sokak (Wide Street), along which some of Macedonia's most winning architecture can be seen. And although tourists won't be overwhelmed by the modest amount of things to do within the city, the surrounding area has plenty to offer — chief among them the Pelister National Park, the ancient ruins of Heraclea Lyncestis, and charming villages like Bukovo.
Each of our days in Bitola was spent in the same fashion: after a lazy breakfast at one of the countless cafes in town, we'd go do something outside of the city. After lunch, we'd spend the afternoon wandering listlessly about the streets, getting lost in the maze of the Turkish quarters, watching kids swimming in a city fountain, or visiting a church like St. Demetrius. Low-key but never boring, a visit to Bitola can be as rewarding or as relaxed as one wishes.
Locations on our Map: Turkish Quarter | Širok Sokak