The Pantelejmon Monastery of Vodno
On the slopes of Mount Vodno in the village of Gorni Nezeri, is one of the most important monasteries in Macedonia. Pantelejmon was built in the 12th century, and still preserves some of the country's oldest Byzantine frescoes.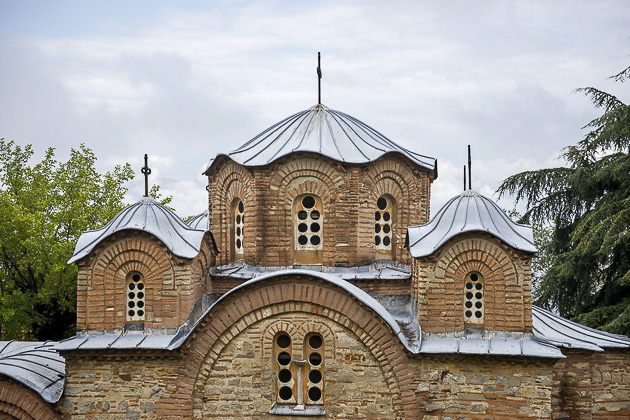 Gorni Nezeri is just outside Skopje and we were visiting on a Sunday, so the church was quite busy. Having heard so much about the Sv Pantelejmon, we were surprised how small it was, and with the crowd, there was hardly enough room to move around inside. The church is nice, though, and the ancient frescoes which cover its walls and ceiling are stunning.
Still, we were happy to get back outside, where we enjoyed the view from the monastery's courtyard, which looks out over the valley of Skopje. There's a popular restaurant on the grounds, but we were too early for lunch. Instead, we sat along the walls, and looked out over the city, trying to imagine how it all must have looked in the 1100s, when the church had been built. Back then, Skopje was no more than a trading settlement, and would hardly have been a speck along the river.
Despite its proximity to the city, the Pantelejmon Monastery is not the easiest place to reach, especially if you're relying on public transportation. But if you want to see some lovely Byzantine art along with a great view over Skopje, it makes for a rewarding, short excursion.