The Skopje City Museum relates the history of Macedonia's capital, from ancient times up to the modern day. There are some interesting archaelogical exhibits, but the museum's single most compelling piece is the building in which it's housed: Skopje's former train station, which was closed after it was heavily damaged during the 1963 earthquake.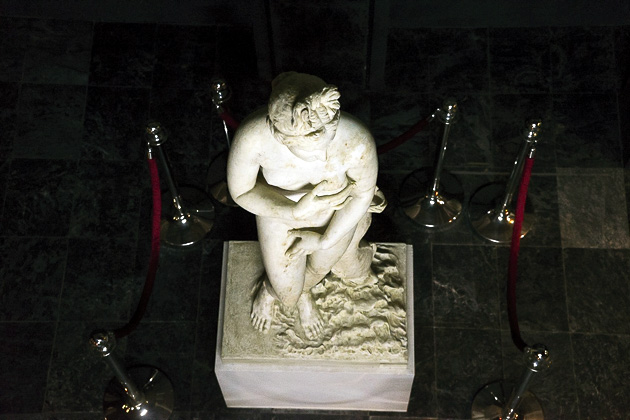 There aren't an overwhelming number of exhibits in this free museum, but two warrant special mention. First is the Adam of Govrlevo, discovered at an archaeological site near Skopje. Portraying a seated male torso, this Neolithic ceramic sculpture is over 7000 years in age, making it one of the oldest examples of human artwork on the planet.
The museum's other treasure is the so-called "Shy Venus," a marble statue found in the baths of Skupi. This Roman statue is almost completely intact, looking nearly as pristine as it must have 2000 years ago.
In addition to these archaeological finds, the museum has a large exhibit dedicated to the 1963 earthquake, with harrowing photographs laying bare the extent of the trauma. But we only had to look around to understand the earthquake's power. Half of the city's grand train station had collapsed during the catastrophe. Rather than fix it up or tear it down, it's been left as a monument.
It seems strange when you first consider it: priceless artifacts stored in a half-demolished building? But it's an inspired choice. What better place to study Skopje's history, than in a building which is itself a testament to it?