The Church of St. George in Staro Nagoričane
Near Kumanovo, the tiny town of Staro Nagoričane is home to the 14th-century church of St. George, which possesses some of Macedonia's most important frescoes. We swung by on our way back to Skopje after visiting Kokino.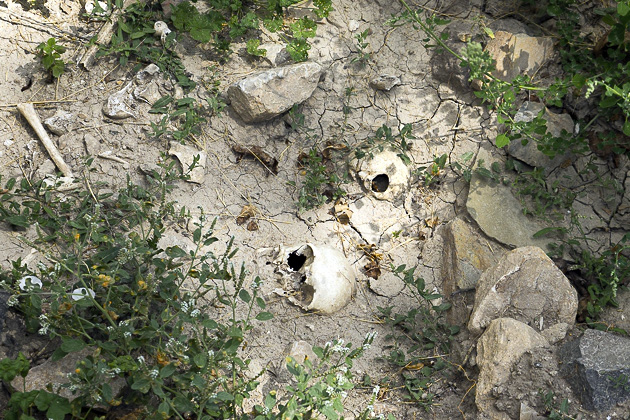 There was a large tour group already inside the church, so we decided to start with a walk around the grounds. "Strange," I thought. "Look at all these sheep bones laying in the grass." And then I saw the femur, possibly human-shaped. And then I saw the skull, definitely human-shaped. And then I got scared.
The church was in the process of renovation, which apparently entails digging up the ancient tombs that surround it. That's fine, of course; by all means, dig away. But we saw piles of dirt tossed against the wall, with spines and skulls just sticking out. I shuddered to imagine workers digging into the ground, throwing shovelfuls of dirt haphazardly over their shoulders, bones flying through the air.
I paid strict attention to where I stepped, not wanting to crush some ancient skull into powder, and was relieved when the tour group finally left. Happily, the church's interior was worth the creepy wait in the yard. The interior frescoes are among the last works of the master painters Mihailo and Evtihij, who produced some of the most highly-regarded works of Byzantine religious art in the Balkans. Until recently, the paintings had been in deplorable condition, but the recent renovation has helped to address that.
It's a painstaking process, but I imagine that when the renovations of St. George are complete, this will be among the most impressive of Macedonia's churches. For us, it's already unforgettable — if only for the human remains littering the yard!
–Travel Insurance For Your Trip To Macedonia