Bansko's Ancient and Modern Baths
A short taxi ride brought us from Strumica to Bansko, a village which has long been known throughout Macedonia for its thermal mountain springs. After arriving, we visited the ruins of an ancient Roman bathhouse, before diving into a more modern pool.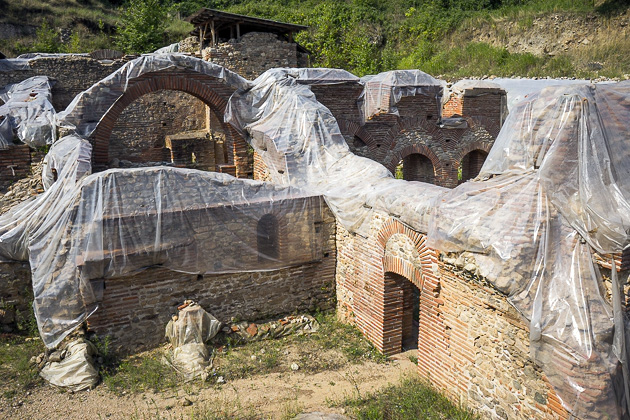 For time immemorial, the naturally heated waters which flow from the springs of Bansko have been prized for their therapeutic properties. The Romans established a large bathhouse here, the remains of which can still be seen near the Hotel Tsar Samoil.
According to signs, the European Union initiated a project to rehabilitate Bansko's Roman baths in 2009. That effort appears to have stalled, as the site is now abandoned and partially covered in tarps. But you can walk around most of the weed-covered building, and it's easy to imagine how grand the structure must have once been… and could be again, if only they could finish the renovations.
From here, we walked over to the large Tsar Samoil complex, which fills multiple purposes for the people of Bansko. There's the hotel, a restaurant, conference rooms, a public pool, and a rehabilitation center which makes use of the water's purported health benefits. We paid about $1.50 apiece and went into the changing room.
The swimming hall is run-down, but the pool itself is large and clean, and the water feels great. Just be aware that the other swimmers consist mostly of patients and elderly people treating their aching bones. Nothing wrong with that, of course, just as there's nothing wrong with, let's say… very old women with bugged-out crazy eyes who can't keep their tongues in their mouths. As I was relaxing against the edge of the pool with my eyes closed, exactly such a woman half-climbed onto me, and I nearly screamed. She was either blind or frisky, and I'm honestly unsure as to which.
After swimming, make sure to walk through the town. A thorough tour won't take more than a few minutes, and it's neat to see the steaming river, into which every neighbor has hooked up tubing to deliver hot water into their homes.
Location on our Map of the Roman Bath