Visiting the Skopsko Brewery
The Skopsko Brewing Company has been providing Macedonia with its favorite beer since its establishment in 1924. We had the opportunity to tour the plant, see how Skopsko is brewed, and learn about the country's beer market.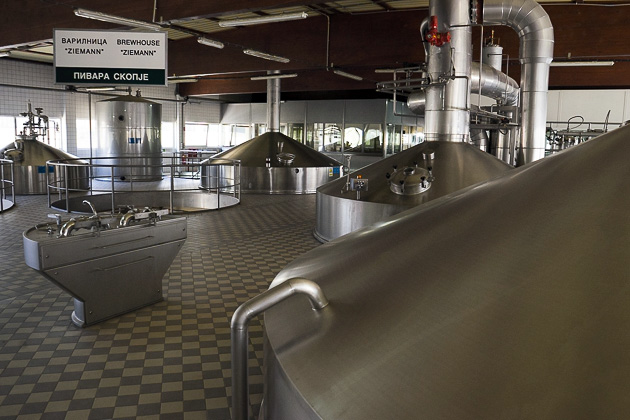 Macedonia is not exactly a nation of beer drinkers. In restaurants, more people prefer sipping rakija or wine. And among young people, the beverages of choice seem to be non-alcoholic; in bars, even late at night, beer is ordered less frequently than coffee or cola. Of course, beer-drinking is not exactly a rarity in Macedonia, but per capita consumption is among the lowest in Europe.
Brewery tours are not standard practice at Skopsko, but Jürgen and I were lucky enough to be invited into the plant. Considering it's the nation's largest, Skopsko's brewery is a surprisingly small operation. After meeting some of the engineers, we were shown the massive vats used for mashing, fermentation and filtration, as well as the control room. Our favorite part was the automated line where thousands of bottles are brought from station to station, to be sterilized, checked, filled and capped.
Oh, who am I kidding? Our favorite part was trying out the beer. Skopsko has historically offered only one flavor: Skopsko. There's no light version or lime-infused brew. No Skopsko Ice or Skopsko Autumn Ale. Just plain old Skopsko. The beer has a rich golden color, and a slightly hoppy flavor. Nothing grandiose, but it's a good, solid beer.
Recently, though, they've decided to test the Macedonian market by offering both a Radler (a mixture of beer and lemonade), along with a yeasty, unfiltered beer called Mlado Pivo (or Young Beer). Because it can't be stored for long, Mlado Pivo is only offered in select locations, including Pelister's, a popular restaurant in Skopje's main square.
Location of Skopsko Brewery on our Map
–Rent Your Skopje Apartment Here