Prilep and its Beer Festival
For four days in July, the central Macedonian town of Prilep is taken over by Pivofest: an annual celebration of beer which has become the nation's biggest festival. It's not exactly the most traditional event on the calendar, but that wasn't going to deter us from attending. We're talking about a giant beer party, after all. Tradition can wait.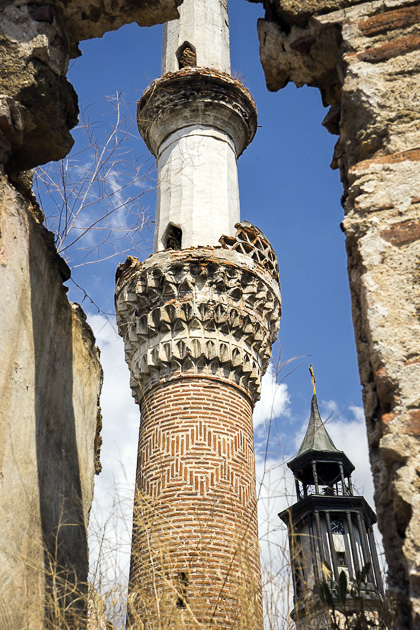 A valley town nestled in the heart of the country, Prilep is Macedonia's fourth-biggest city, with a population of 70,000, and an economy centered on tobacco and marble. We had considered driving from Skopje, which takes 90 minutes, but instead took the train: twice as time-consuming, but cheaper, easier and more memorable. Along with hordes of young party-ready backpackers, we piled onto a rickety old wagon, and sat back for a circuitous three-hour journey through the lovely mountain scenery of central Macedonia.
We arrived in the late morning, well before Pivofest 2014 was set to get underway, and had some time to check out the city, starting with the pedestrian-only Turkish Quarter. Picking our way through a labyrinth of cafes and restaurants which had occupied the streets, we found the remnants of a historic mosque. Built in 1435, it was burnt during the ethnic tensions that brought Macedonia to the brink of civil war in 2001. Today, you can walk around the ruins, but be warned: it's become both a home and toilet for the homeless. Nearby is an old clock tower, which has tilted a few degrees to the side, since being built in 1858.
After visiting the Tobacco Museum a couple kilometers outside the town center, we walked to the Archangel Michael Monastery. Situated in the shadow of Marko's Towers, this church was built in the 13th century, and you can still see original frescoes, defaced but not destroyed during Ottoman rule. Some of the oldest Cyrillic writing in Macedonia is found here, as well, dating to 993. The monastery was renovated in 1861, and is still home to a handful of nuns.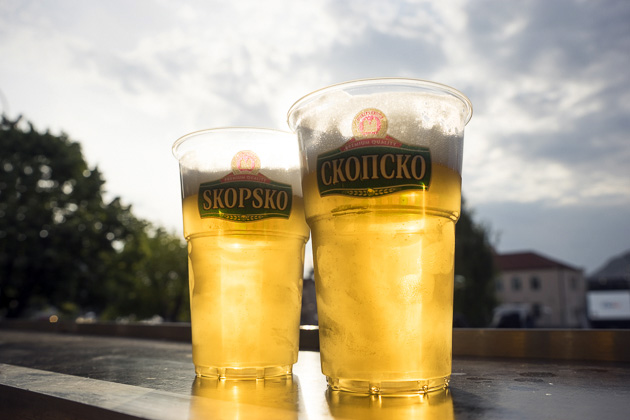 Gosh, that had been a lot of sightseeing, so now we felt justified in drinking beer for the rest of the day. "After all," I said, "this is why we're here." It wasn't an excuse to get good and drunk. Heavens no, we were educating ourselves on local customs!
Soon, we had become very educated indeed. Prilep transforms entirely for this festival, inviting eighteen international beer manufacturers to set up tents along its main strip. Up to 300,000 people descend on the town, mostly Macedonians, but also large numbers of Serbians and party-people from across the Balkans. There are roving bands playing traditional music, dance troupes, and an obscene amount of meat being grilled. And of course, there's the beer, served at dangerously-low prices.
Every night of the festival, a few musical acts take the stage. We had never heard of any of them, but that doesn't mean they're unpopular. When a guy named Daniel Kajmakoski took the stage, for example, a sonic boom of simultaneous girl-shriek tore through the atmosphere. This green-eyed crooner from Struga was the 2014 winner of the Balkan X Factor, and is beloved throughout Macedonia. The crowd had ballooned for his performance and we weren't able to get anywhere near the stage, so decided it was a good time to call it a night. It had been a long, fun day… if you're a beer lover who happens to be in Macedonia during Pivofest, don't pass it up.
Locations on our Map: Burnt Mosque (Town Center) | Archangel Michael Monastery