Marko's Towers & a Hike to the Treskavec Monastery
High on a ridge overlooking the town of Prilep are a set of medieval fortifications known as Marko's Towers (Markovi Kuli). After exploring these expansive ruins, we would set off on a hike through the hills to the monastery of Treskavec.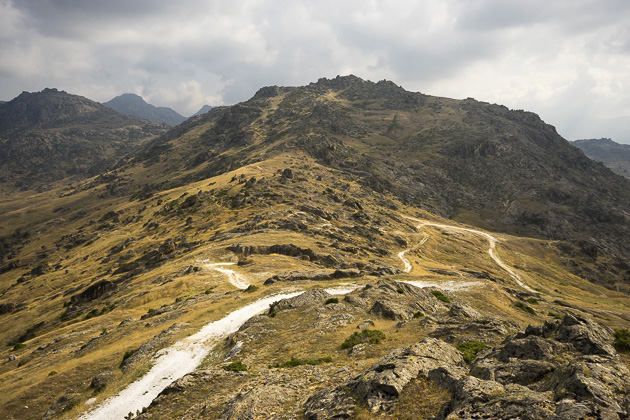 You can take a taxi halfway up to Marko's Towers, but the road eventually ends, and you'll have to walk the rest of the way. Though the path is steep, it's worth the effort. This fortress enjoys an unfettered view over Prilep and the surrounding valley. As a defensive bastion, it couldn't be more perfectly situated; the city's defenders would have been able to see invading armies coming from miles away, and easily rain arrows down upon them.
Archaeological work has revealed that the site was originally a Roman settlement named Keramija, but the visible structures all date from the 14th century and the reign of Marko Mrnjavčević, King of Serbia, who was based in Prilep. The fortress was abandoned with the arrival of the Ottomans, and allowed to age undisturbed, so the walls and even one of the towers have remained intact.
A well-worn hiking path connects Marko's Towers to the Treskavec Monastery, seven kilometers to the north. Moderately easy, the trail leads along the tops of the hills, through sudden bursts of forest clustered around mountain springs, and past strange rock formations. Going at an easy pace, we needed about three hours to complete the journey.
Hidden in the hills, far from the nearest village, the Treskavec Monastery dates from the 12th century. Unfortunately, a major excavation was taking place during our visit and we weren't able to properly explore its interior. But a couple of the guys digging graves out of the floor allowed us to step inside for a minute, giving us a tantalizing glimpse of the frescoes which cover the walls and ceiling.
Although it was disappointing to find the church inaccessible, the hike to Treskavec had been a lot of fun, so we were in great spirits while hitchhiking back to Prilep. Ancient towers, gorgeous scenery, fresh mountain air and a forgotten monastery set in the hills… we couldn't have asked for a more perfect day out.
Locations on our Map: Marko's Towers | Treskavec Monastery
–Book Your Car Rental For Your Macedonia Road Trip Here