The Hike from Vevčani to Gorna Belica
Departing from the park which protects Vevčani's natural springs, a path of eight kilometers meanders through the hills to Gorna Belica. It's a strenuous, non-stop ascent, but reaching this remote mountain village is worth the effort.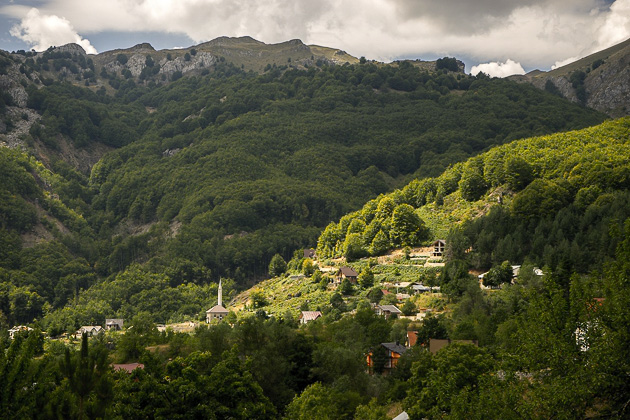 The path begins in Vevčani Springs, a dense, dark-green forest kept abundantly watered. As you ascend, the springs eventually peter out, resulting in ground ever dustier and vegetation ever more sparse. We passed by the dried-out gnarled corpses of massive trees, and were vaguely discomforted by the trail's silence. Except for a shepherd and his flock, we didn't see another soul the whole way.
And once we arrived in Gorna Belica, after a couple hours of walking, we realized that we were the only people here, too. This mountain town is not really a permanent community, so much as a weekend retreat for people from Ohrid. The houses are well-kept, obviously not abandoned, but on this weekday afternoon, they were empty. The architecture was different to anything we'd yet seen in Macedonia, with sharply inclined roofs on the houses. Gorna Belica apparently gets a lot of snow, and it must be gorgeous in the winter, especially with Lake Ohrid twinkling in the background.
The path continued farther into the hills past Gorna Belica, to the cave church of the Perumba. But we didn't have time for this, and instead returned along the path back to Vevčani. This was a solitary and straightforward hike, which took about five hours to complete, round-trip.
Locations on our Map: Vev?ani Mountain Spring Park | Gorna Belica
Our Route on GPSies.com (we only did the section from Vev?ani to Gorna Belica)