Scuba Diving in the Bay of Bones
Along with Titicaca in South America and Baikal in Russia, Lake Ohrid is among the oldest lakes in the world. And it's become a popular destination with scuba divers thanks to both its history, and the stunning clarity of its water. We ventured underwater with Amfora Diving Center to visit the Bay of Bones: an archaeological site from the Bronze Age.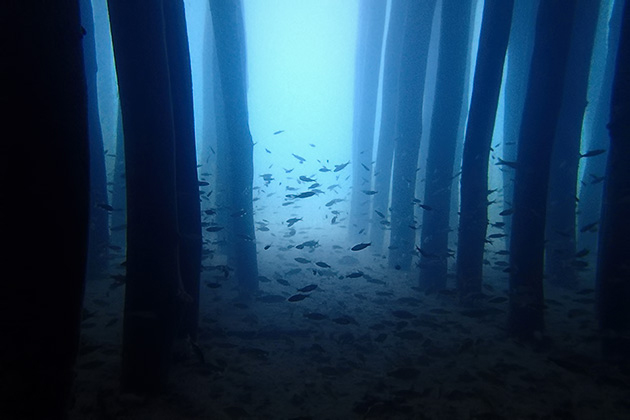 At a maximum depth of twelve meters, the Bay of Bones is Lake Ohrid's easiest dive, as well as its most interesting. We had only recently earned our Open Water certifications, during 91 days in the Yucatán Peninsula, so "easy" sounded good to us.
We showed up at the offices of Amfora and, after meeting our guide for the day, squeezed into our full-body wetsuits. Ohrid's water is warmer than you might expect, and the wetsuit was more than enough to protect us from any chill. The Bay of Bones is just off-shore, and we simply waded out into the water until deep enough to submerge.
Soon we were swimming above the remains of a lakeside settlement over 3200 years old — a time during which Lake Ohrid was much more shallow. Our guide took us to the lake floor and had us sit down carefully on the sand. Although the most important finds have been retrieved and brought to the surface, the lake is still littered with ancient relics. After scouring around for a couple minutes, he found a few items like a shell necklace, which we passed between us, a kind of cutting implement and the jaw of an animal. It was perhaps a rabbit's? I wasn't sure… and underwater, it was hard to ask.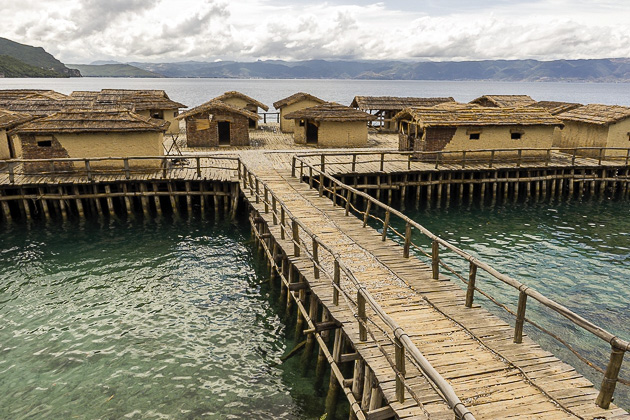 The original Bronze-Age stilt village is long gone, but it's been replaced by a modern replica. Our guide took us underneath this reconstructed village, at the end of the dive. The stilts were spaced closely together, and the sunlight pouring in from above reflected through them beautifully. Hundreds of fish were weaving through the narrow passages, somewhat more gracefully than us, and I didn't know where to look — at the sun, at the fish, or the poles which I kept bumping into.
After emerging from the water and drying off, we visited the replica village set atop the stilts we had just swum through. Each of the many huts contains information about the original settlement, along with some of the archaeological finds that have been made in the lake.
We had a great experience with Amfora. Their equipment seemed top-notch (although we're not qualified enough to really judge this), and the guide was both friendly and professional (this, we can judge). Besides the Bay of Bones, Amfora also offers dives to other intriguing spots in Lake Ohrid, such as a sunken German boat from WWII.
Amfora Diving Center – Website
–This Travel Insurance Company covers your diving trip under their EXPLORER policy.