A Walk Down Ohrid's Promenade
There are a lot of activities one could choose from during a trip to Ohrid. Scuba diving, paragliding, hiking and sailing are just some of the options available to those who crave action. But "action" is the last thing on the minds of most visitors to Ohrid. This is, after all, where Macedonians come to relax. And for that, nothing's better than a day spent lounging on the lake.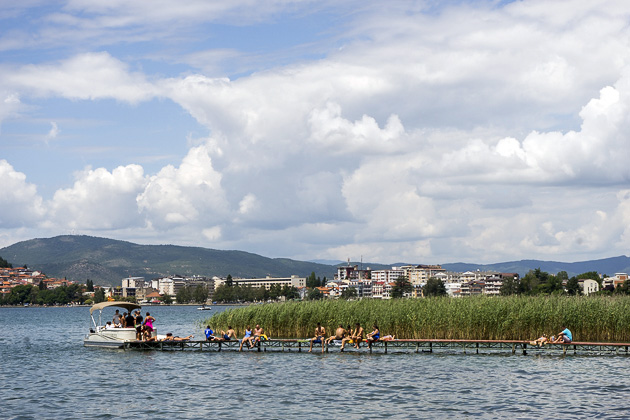 We took a leisurely stroll starting at Kaneo Beach, below the church of Sveti Jovan. Between the water and the walls which make up the base of Samoil's Fortress, there's just enough room for a narrow strip of sand, a boardwalk and a few bars.
The boardwalk ends near Sveta Sofia, and spills into two streets that run parallel to the coast: Tsar Samoil and Kosta Abras. These cobblestone and mostly pedestrian lanes make up the heart of old Ohrid, and are home to historic buildings, cafes and bars, as well as workshops specializing in traditional crafts.
Kosta Abras rejoins the coast, continuing along the shore toward the east, past water taxis clamoring for business and kids jumping from wooden piers, until reaching the lakeside lounge-bar of Cuba Libre. The road might actually continue, but we wouldn't know because Cuba Libre is where we stopped for the day. With sofas pressed right up against the water's edge, and a DJ spinning chill-out music, it was too tempting to pass up.
A walk along the shore isn't the most high-octane activity you could choose while in Ohrid, but it's probably the most enjoyable. As much as we loved the rest of the city, the time we spent relaxing on the lake was probably the highlight of our trip.
Location of Cuba Libre on our Map