Šipokno and the Cave Church of Sv Stefan
On our second day in Ohrid, we embarked on an excursion to Sv Stefan, an ancient cave church set within the cliffs south of town. We had prepared for a strenuous hike, so when we arrived at the church after barely ten minutes of walking, it was kind of a disappointment. Luckily, the trail continued, and would lead us to the abandoned village of Šipokno.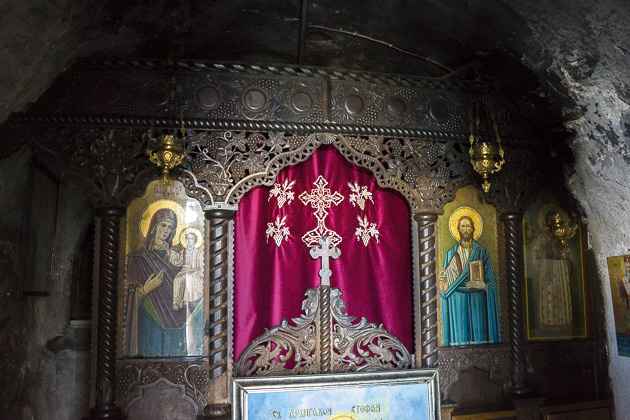 The origins of the Sveti Stefan date back to the 10th century, and the frescoes which still decorate the walls were painted during the 13th. The cave itself is small, barely a niche in the rock face, but the atmosphere as well as the view over the lake must have once been remarkable.
That's right: "must once have been." The experience of visiting of Sveti Stefan has been severely compromised. During our visit, crews were at work erecting a huge hotel, directly in front of the cave, ruining both the view of Lake Ohrid and the tranquility of the forest setting.
We had planned for our excursion to Sveti Stefan to occupy the entire morning, but were done after less than a half-hour. So, after noticing that the trail continued higher into the hills, we followed without questioning where it might lead. Almost immediately, we were pleased with the decision. The path ascended swiftly and soon we had distanced ourselves from the bothersome construction.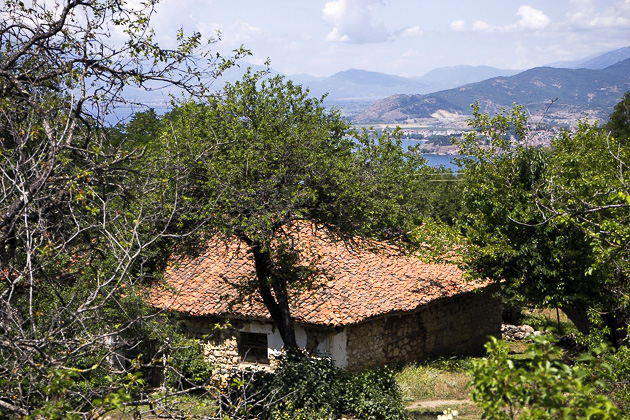 After passing a bee farm and a private vineyard, we reached Šipokno: a collection of abandoned dwellings atop the hill. We strolled through the village, peeking inside the partially-collapsed houses, most of which were in the process of being reclaimed by nature. Clearly, nobody had lived here for decades, so we were surprised and moderately terrified to chance upon a man in work clothes, wielding a handsaw. But he was just collecting logs, and farther on, we met a couple other guys tending a well-kept garden. They explained that the original families have moved elsewhere, but still own the land and return occasionally. Šipokno might be deserted, but it hasn't been entirely forgotten.
Locations on our Map: Sveti Stefan | Šipokno
–Book Your Guesthouse in Ohrid here