Hiking to the Monasteries of Matka
Over the course of one long day at Matka Canyon, we tackled two hikes. The first, a climb to the church of Sveti Nikola, we can heartily recommend to anyone. But the hike to Sveti Nedela, on the opposite side of the canyon, is an ordeal we'd suggest only to those we most hate. Really, just those few people whom we wouldn't mind seeing dead.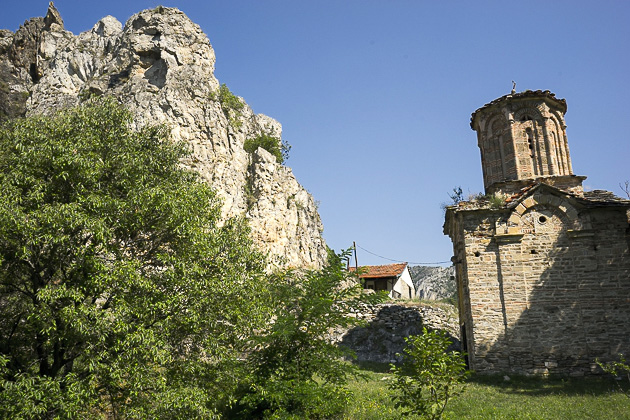 The hike to Sv Nikola starts with a short ride across scenic Matka Lake. Near the Dom Matka restaurant are boats which will take you across for a couple dollars (these are the same guys we employed for our trip to Vrelo Cave). The trail starts immediately at the drop-off point and, although steep, it's short and clearly-marked. After twenty minutes of uphill climbing, you'll be at the monastery, situated above the canyon and its lake.
We now followed the trail on a slow descent back downhill, returning us to the river we'd just crossed with the boat. Further downstream, though, the Treska was more narrow, and we could walk across over a bridge, which landed us at the doorstep of Sv Bogorodica, the second monastery on our itinerary. This church's interior frescoes date from the 15th century, and after checking them out, we refilled our water at a fountain in the courtyard.
The first of our two hikes was over, much quicker than expected, and everything was going splendidly. One of us must have said so aloud, because from here on out, nothing went our way. Begin: the hike to Sv Nedela.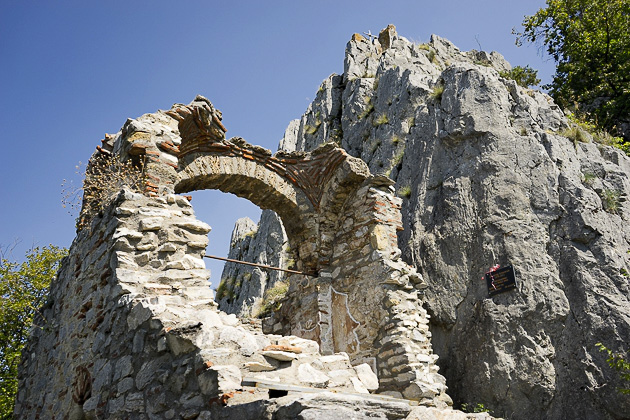 Off we go, tromping into the hills on the western side of Matka Canyon. Here's a trail marker. There, another one! This is easy. There's another marker, that way. Hot today, huh? Good thing we filled up our bottles. There, I see the next marker. I'm happy we're doing this, I always feel better out in nature. Is that an eagle up there? Pass me some water…
… Hey. Have you seen a trail marker recently?
No, we hadn't. Because at some point, the markers had disappeared. We considered backtracking, but there had only been this single trail, so we couldn't be wrong. Besides, according to our trusty GPS-enabled smartphones, we were still headed in the correct direction. But the trail was quickly becoming more narrow, more overgrown with weeds. Less enjoyable. Scratchier. That happy feeling we'd enjoyed all day began to disappear. My mind was telling me that it must be okay, but something in my heart knew better, and every step we took into the brush reinforced my growing dread.
Eventually, the trail petered out entirely, and there we were in the middle of the woods. According to the GPS, Sveti Nedela was a scant 200 meters away — but it was almost straight above us. The thought of scrambling up a steep ravine through machete-worthy brush was in no way appealing, but neither was returning along the awful path we'd just come by. And besides, it was only 200 meters.
But that 200 meters required over an hour of the most dangerous, awful, stumbling, flesh-gouging, mosquito-infested, sweaty, difficult hiking we've ever attempted. Even remembering it makes me sick to my stomach. When we finally arrived at the church, we were covered in blood and mud, shaking from the effort, and quietly contemplating the number of times a rock had given way underfoot, nearly sending us hurtling backwards to a certain death.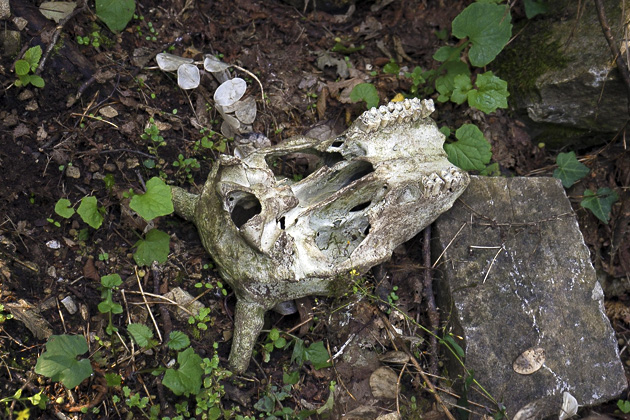 Luckily, the Sveti Nedela was amazing. Not worth the effort, certainly, but amazing nonetheless. Originally built in the 13th or 14th century, the church is now in ruins, and the views over the valley, stretching all the way to Skopje, are unassailable. After finding stable perches on the crumbling edifice, we sat silently, recovering our strength and sanity.
Now began the downhill trek. We followed a path until reaching the Sveti Spas, a church which is still partially in use. Twenty minutes past this, we lost the trail once again. The crews which placed the trail markers are either diabolic or idiotic. There's no middle ground, they're either incredibly evil or incredibly stupid. Everywhere the path is already clear: billions of markers! Every meter a marker! But wherever the trail becomes confusing, there's not a clue to be seen. Already chastened by experience, we were being extra careful, and still got lost.
We backtracked, but were unable to find where the path supposedly continued. Instead of wasting more time, we decided to head straight downhill, toward the canyon as directly as possible. Again we fought through brush, reopening all the wounds which had just started to heal. But by this point, we had become nature-stomping machines, immune to agony. I bit off any branch which dared come near my mouth. I ripped entire saplings out by the root. I crushed at least five turtles under my boot.
The first hike, from Lake Matka to Sv Nikola and Sv Bogorodica, is great. Please try it out, you'll have fun. But really, don't attempt to hike from Sv Bogorodica to Sv Nedela. There's another way. You can take a car around the back of the mountain, and drive along the gravel road all the way up to Sv Spas. The trail from there to Sv Nedela is properly marked and straight-forward. It sounds like cheating, and probably is, but you'll save yourself a world of hurt.
Locations on our Map: Sv Nikola | Sv Bogorodica | Sv Spas | Sv Nedela
Our Routes: Lake Matka to Sv Nikola | Sv Nikola to Sv Bogorodica
-This ain't the only life-threatening hike we've done! Read about our Death Hike In Iceland