While in Ohrid, an excursion to the southern tip of the lake and the monastery of Sveti Naum should be considered essential. This is where the natural springs which feed Lake Ohrid come bubbling up from the underground, into a lagoon of startling clarity.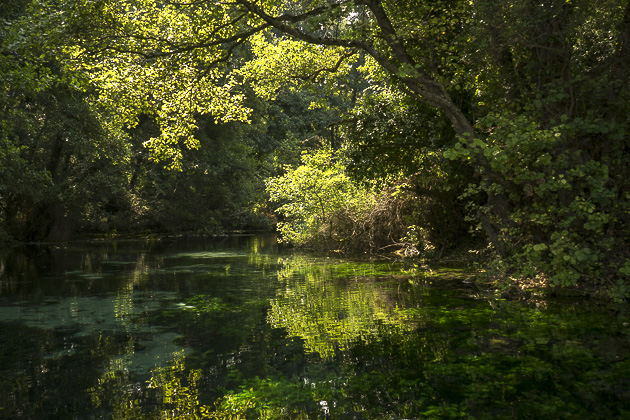 The water of Sveti Naum originates in nearby Lake Prespa, on the other side of the mountainous Galičica National Park. After filtering through layers of thick rock, the water enters a subterranean lake beneath the park, and then is filtered yet again before emerging from the ground at Sveti Naum. By this point, the water is so pure, you can drink from it. And many do.
After we had eaten breakfast at the Restaurant Ostrovo, perched right atop the water, we hired a boat to take us farther inland along the lagoon, which is protected by UNESCO. People are allowed to row out onto the water, but nothing may be touched — even fallen trees must be left alone. As a result, the water has remained so pristine that, even at a depth of ten meters, the ground seems near enough to reach down and touch.
Our guide parked the boat at the end of the lagoon, where we had the chance to visit a small church built atop the confluence of three springs. Inside, a circular well has been dug into the floor, exposing the exact spot where the three waters mingle. Apparently, the water from this natural fountain helps women conceive. No idea what it does to men, but I took a sip anyway.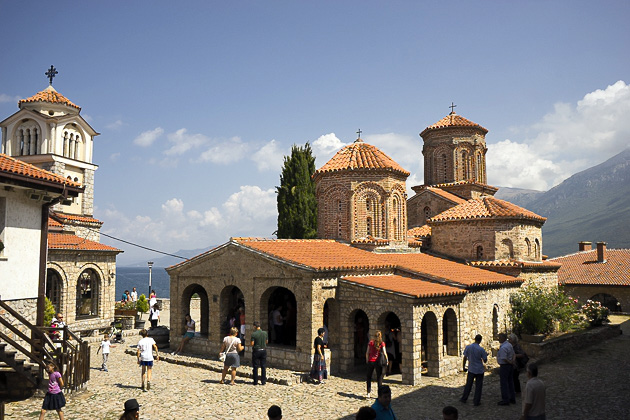 Having returned to Lake Ohrid, we turned our attention to the monastery of Sveti Naum. It was a Sunday toward the end of summer, and the church was extremely busy. Before entering, we waited in a long line of believers, each of whom first had to cross themselves three times, and bow repeatedly, and kiss the door. Once inside the church, the air was so moist and dank with the stench of humanity, I immediately wanted to leave. Of course, the exit was blocked by yet another line of wall-kissing, deep-bowing, cross-signing believers.
But the monastery is lovely and, on quieter days, must be nice to visit. The setting couldn't be more memorable and despite the crowds, we lingered outside to enjoy the views over Lake Ohrid. Even if you're not interested in the church, a boat ride into the lagoon should not be missed.