A Quiet Stay at Lake Prespa
Poor Prespa, always playing second-fiddle to Lake Ohrid. This is Macedonia's second-biggest lake, behind Ohrid. It's not as old, nor as fascinating, nor as pretty, nor does it have water so blue. It's almost completely bypassed by tourists and locals alike and, relative to Ohrid, its shores are devoid of life. But we spent four nights here, and gave the lake our full attention. It's your time to shine, Prespa. Impress us!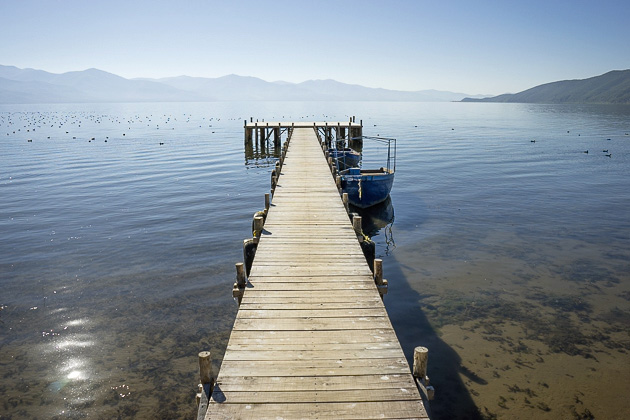 We had been invited to the Lakeview Hotel, near the town of Oteševo on the lake's western shore. This is a mammoth place, dating from the 1950s, when southern Yugoslavia was a popular vacation destination. The Lakeview had been unoccupied for decades, before being purchased by a Macedonian family from New Jersey. They're still in the process of refurbishing, but the hotel has once again opened for business.
The Lakeview is the perfect base for an extended visit to Prespa. The restaurant is excellent, the views of the lake are wonderful, and there's even a billiards room. We also enjoyed talking with Alexander, the family son who runs the hotel's operations. Though his blood is Macedonian, he's New Jersey born and raised, and it was interesting to hear about his experiences moving back to the "old country."
Although the water was warm enough and the beaches were nice, we never went swimming in Lake Prespa. We simply didn't have time; the four days we spent here were packed with activity. We would visit Golem Grad (better known as Snake Island), and take hikes in both the Galičica and the Pelister National Parks, which border Prespa on the west and east, respectively. We also took time to explore an old hotel which, unlike the Lakeview, hasn't survived into the present day intact.
Did we enjoy Lake Prespa as much as Lake Ohrid? That's hard to say. Imagine that there are two brothers. One is good-looking and smart, and everyone loves him. The other one isn't bad, either, but he's just not in the same league. You could go out with the popular brother, and have a blast. But you'd have a good time with the other one, too. Actually you might end up liking him more. He's more down-to-earth, more laid-back, and the longer you look at him, the more attractive he becomes. That's kind of what Prespa is like.
Lakeview Hotel – Website