The Bitola Museum and Atatürk
Before leading the nation of Turkey into the modern day, Mustafa Kemal Atatürk attended military high school in Macedonia. Today, his former educational institute has been converted into the Bitola Museum, a special wing of which celebrates the great man and his legacy.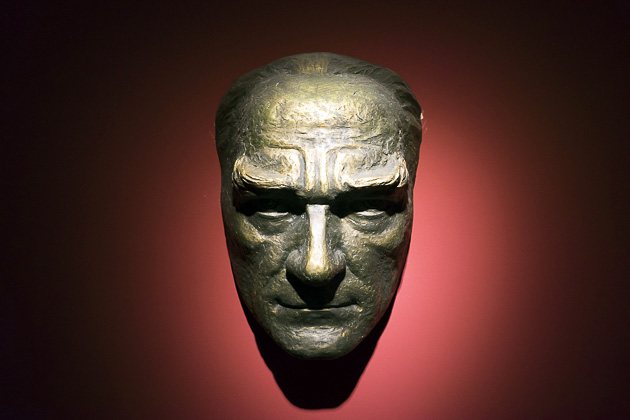 The principal section of the Bitola Museum takes visitors on a chronological journey through the city's history, starting with exhibits like Neolithic sculptures of animal gods, helmets from the Bronze Age, and reconstructed mosaics taken from the site of Heraclea Lyncestis. Moving closer to the present day, there are traditional costumes, paintings and photographs of the city's glory days in the 19th century, while rifles, cannons and camouflage fatigues accompany the harrowing stories of Bitola's destruction during World War I.
It's all fascinating, but we were most excited about the exhibits dedicated to Atatürk. During our 91 days in Istanbul, we had learned a lot about the founder of the modern Turkish Republic, but we didn't know that he had spent his formative years in Macedonia, and it was interesting to learn about his time here. According to grade cards posted in the museum, he consistently finished near the top of his class, and it was in Bitola that Atatürk got his first taste of love.
Eleni Karinte, the daughter of a wealthy local baron, fell in love with the charismatic young Mustafa Kemal while he was a student. But her strictly Christian father did not approve of the relationship, and kept her locked indoors until Atatürk had graduated and departed Macedonia for good. The museum reproduces a heart-wrenching love letter which Eleni later sent to Istanbul, in which she swears that she will never love another man. Her story is retold in a 2013 Macedonian film by Aleksandar Popovski, with the awkward title of Balkan Is Not Dead.
Bitola Museum – Website