The Megalithic Obervatory of Kokino
Before arriving in Macedonia, I might have guessed that the country would offer gorgeous nature, good food, and forgotten mountain villages. But I wasn't expecting to find multiple megalithic observatories. We had already visited Cocev Kamen near Kratovo, and now turned our attention to the "Stonehenge of Macedonia," Kokino.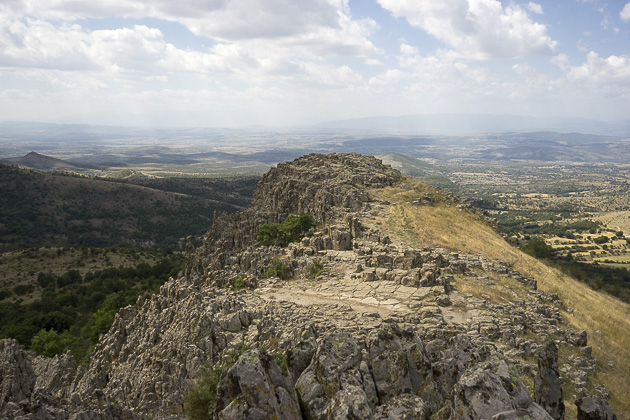 Kokino is more well-known than Cocev Kamen, and much easier to find. It's at the top of a huge volcanic rock named Taticev Kamen, where artifacts have been found that date to the Early Bronze Age (20th-17th century BC).
Visitors are able to drive halfway up the hill, leaving the remaining ascent easily manageable. The observatory consists of a platform with a row of seats carved into the rock. As it faces east, this is apparently where the ancient astronomers would sit to observe the rising sun. Within the rocks directly across from the thrones, niches were carved to mark the position of the sunrise on the summer and winter solstices.
I took a seat where, 4000 years ago, our ancestors were discovering the rhythms of the universe. It wasn't a solstice, but I could imagine how the sun must look when it comes shining through the rock cuts. And even without the presence of the observatory, climbing Taticev Kamen would have been worthwhile for the breathtaking view.