How to See the Galičnik Wedding Festival
Or, "Lessons from a botched attempt"
Macedonia's most well-known traditional gathering is the Galičnik Wedding Festival, held annually in a Mijak mountain village above Lake Mavrovo. This festival has a history stretching back centuries, and thousands of revelers still flock here every year for the music, rituals, games, drinking and fun. It sounds incredible… but we wouldn't know for sure, because we never made it.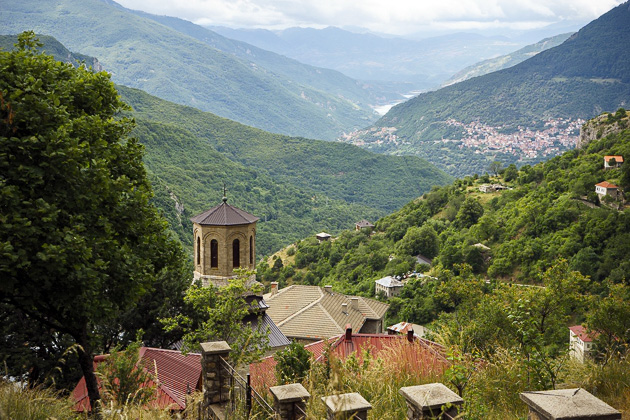 Useful information can be hard to come by in Macedonia, even when it's for something as relatively famous as the Galičnik Wedding Festival. We scoured the internet in vain for an official website or program. We asked the locals we encountered, and while most had heard of the festival, nobody had been themselves. There was even disagreement about which day it fell on. In the end, we visited the tourist office in Skopje. This is a multi-day celebration, and we wanted to know exactly when to show up. "Saturday," the guy in the office proclaimed with an assuring air of authority. "Definitely, go on Saturday."
So we went on Saturday… or at least we tried to. Galičnik is a mountain village, and the road there is steep. Halfway up, our rental car broke down. A few people stopped to help, and we managed to get turned around and roll back to the bottom of the hill. While waiting for a mechanic, we worried about all the fun we were missing, and decided it would be best if Jürgen hitchhiked to Galičnik while I stayed with the car.
After an hour, I received a one-word SMS from Jürgen: "Fail." Having arrived in town, he learned that the festivities didn't start until much later in the evening. In order to see anything, we'd have to stay the night, which meant either camping or booking a room. We didn't have a tent and, naturally, Galičnik's scant hotels were fully occupied. Even if we had found accommodation, we didn't have proper clothing. Set high in the mountains, Galičnik is freezing cold, and we would have been miserable. Jürgen stuck around long enough to convince himself that it was hopeless, then hitchhiked back down the hill, where I was still waiting for the mechanic.
We wouldn't get a second shot at this festival, and so were quite upset. This was supposed to have been among the highlights of our 91 days in Macedonia! The drive back to Skopje was spent in silence, each of us trying to figure out ways to blame the other for the failure. Our research should probably have been better… but hindsight is 20-20, and we truly had talked to a lot of locals. We'd even gone to Macedonia's main tourist office! The fact that nobody mentioned a good car, warm clothes, or an overnight stay was probably just bad luck. Maybe they all thought these things were self-evident? Maybe they should have been.
Hopefully, the lessons from our attempt might assist others with their own planning. Here are some tips: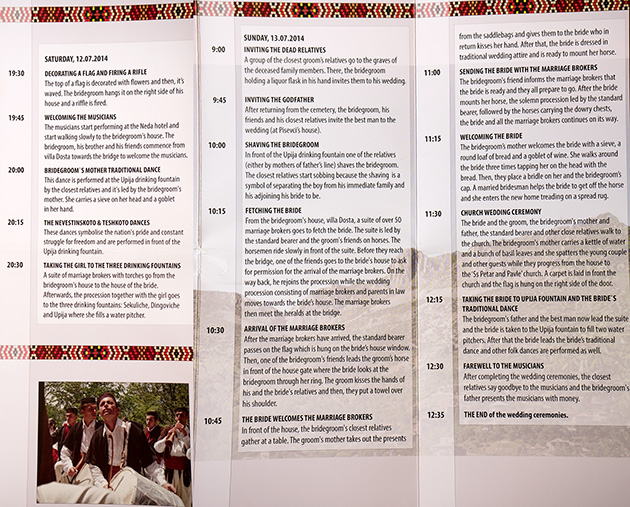 The Wedding Festival is held on the weekend closest to July 12th.
If you want to see everything, plan on arriving Saturday afternoon, and leaving Sunday afternoon. The events start at 19:30 Saturday and end at noon on Sunday.
Book a room or arrange accommodation as early as possible. Or bring camping gear. Don't show up expecting to find a place to sleep.
Dress warmly. Even in the height of summer, Galičnik can be very cold.
Rent a good car. There is no bus that will take you up to Galičnik. Alternatively, get to Lake Mavrovo and then hitchhike. "Common-sense" hitchhiking caveats apply, but this worked for us. The sheer number of cars going up the hill makes it a cinch.
And good luck! If you do manage to visit Gali?nik, and found this article helpful, let us know and please share some pictures with us! This had been the event which we had most been looking forward to during our 91 days in Macedonia. We're still bitter about our failure, but living vicariously through the experiences of others is better than nothing at all.
–Book Your Stay in Gali?nik NOW!!