The Millennium Cross of Mount Vodno
Stretched out along the Vardar River, Skopje is a long and narrow city whose expansion to the south is hindered by the presence of Mount Vodno. We took a cable car to the mountain's summit for a close-up look of the Millennium Cross, and for a birds-eye view over the region.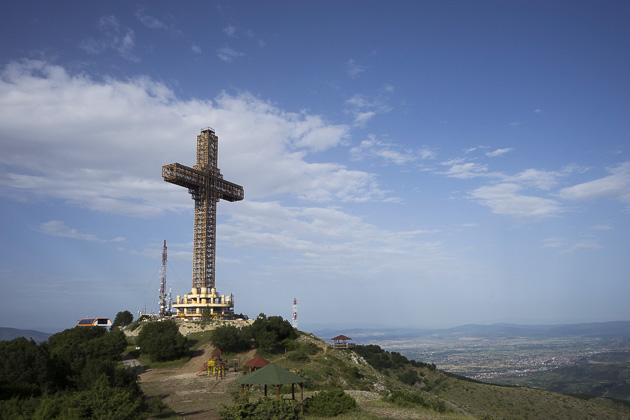 Erected to commemorate 2000 years of Christianity in Macedonia, the Millennium Cross is among the largest religious monuments in the world, measuring in at 66 meters (217 feet). By comparison, Rio de Janeiro's famous Cristo Redentor reaches just 30 meters. The Millennium Cross is visible for miles around, particularly at night, when it's illuminated by bright yellow lights.
The cross is impressive, but it was bound to be controversial in multi-ethnic Macedonia. The prominent hilltop location was seen by the country's significant Muslim population as a provocation, especially since the project was partially funded by the Macedonian government.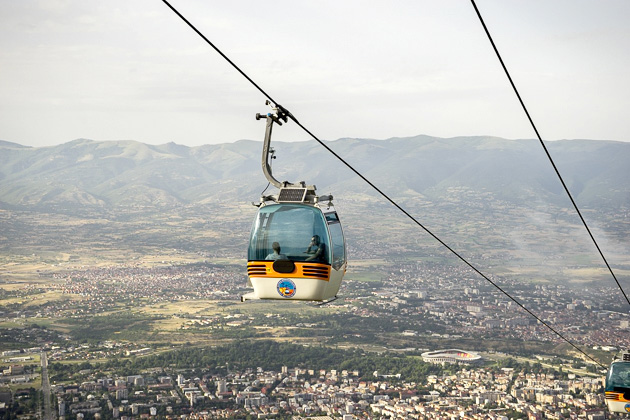 Despite its mountain-top location, the Millennium Cross is easy to reach, and makes a great outing from Skopje. A dedicated double-decker bus leaves from the Central Bus Station every forty minutes and brings you halfway up the mountain to Hotel Vodno. From here, you have a choice: hike the rest of the way, which takes about an hour, or hop on the ropeway and arrive in seven minutes. The hike is supposed to be nice but… come on. There's a gondola right there, just begging to do the work for you.
At the summit, you won't find any restaurants or cafes in which to relax, but there are plenty of trails to explore. Vodno is popular with people gathering wild herbs and mushrooms, and there's a well-trodden hike that departs from here to Lake Matka. But for us, that would be an adventure for another day; during our first trip to Mount Vodno, we were content to sit underneath the cross and admire the sweeping panoramas over Skopje.
–Skopje Short Term Apartment Rentals