In with the New: The Skopje 2014 Project
Skopje's got construction fever, there's no denying it. Statues and monuments have sprouted up like weeds in the city's parks, and the banks of the Vardar River have been given over to glorious new museums and government buildings. It's all part of Skopje 2014, an ambitious urban revival project.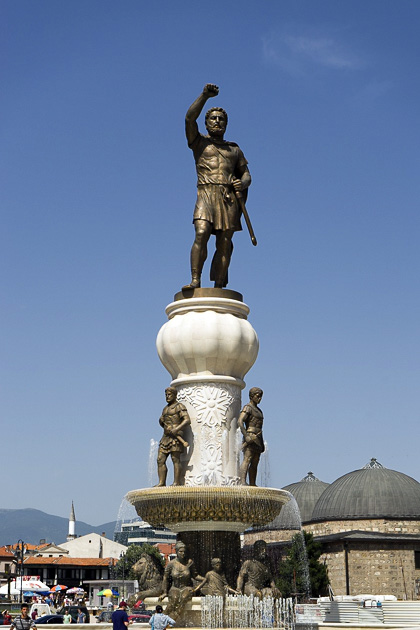 We had the misfortune of arriving in Skopje in the summer of 2014, shortly before the project reached its culmination… catching the city in front of the mirror, hastily applying the final touches of makeup. Most of Skopje's main square was still a construction site, and some buildings along the Vardar weren't quite complete, including the stately new Archaeological Museum. But while it would have been nice to see the finished product, it was interesting to watch the city in the process of transformation.
From the outset, Skopje 2014 has been controversial, roundly criticized by a wide array of groups. Albanians and other ethnic minorities felt excluded from the celebration of Macedonian culture. Architects deemed much of the new work "kitsch." Greeks were outraged over the heroic (and deliberately provocative) statues of Alexander the Great and Phillip II, heroes whom they claim Macedonia is trying to appropriate. And pragmatists balked at the project's price tag, which was estimated to be in the hundreds of millions of euros.
From a purely aesthetic point-of-view, we're on the fence in regards to Skopje's newest additions. Some of the new buildings and statues are nice, while others are… curious. We love the massive statues in the main plazas, for example, and think the neoclassical museums should age well. But near the main plaza, there's a copy of the Arc de Triomphe, which is straight-up bizarre. And it's far from the only head-scratcher.
Skopje 2014 might be expensive, controversial, and of questionable taste, but its sheer scale is undeniably impressive. This is clearly a city intent on improving itself, and the project's very existence bodes well for Skopje's future.
–We Rented Our Apartment Here from Skopje Apartments!