Sveti Spas – The Church of the Holy Savior
Found on a hill in Skopje's Old Bazaar near the Kale Fortress, is Sveti Spas, or the Church of the Holy Savior. It's a small structure whose modest exterior belies the incredible artwork hiding within.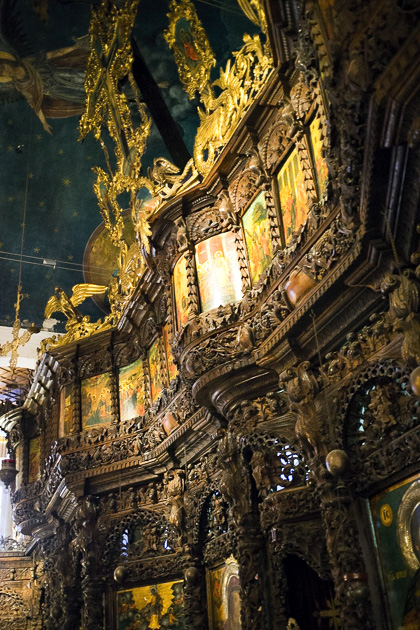 We hadn't read anything about Sveti Spas and, truth be told, only visited because it was adjacent to the Old Town Brewery. After gorging ourselves on ajvar, kebabs and beer, we figured we should do something cultural, and Sveti Spas was the nearest option. The church is a tiny construction of stone and mud-colored plaster in the corner of a courtyard, and didn't look promising. So its interior took us by surprise.
For those unfamiliar with Eastern Orthodox churches, an iconostasis is a large screen separating the sanctuary from the nave, which bears holy icons, such as the portraits of saints. They are often quite large and intricate but, at ten meters long and six meters high, the wooden iconostasis of Sveti Spas is something else.
The iconostasis was the work of three master Mijak artisans. The Mijaks were (and still are) a small ethnic group based primarily in Western Macedonia, who are known for their colorful traditional costumes, festivals, and artistic abilities, including icon painting and wood-working. We were left in no doubt about their skill after seeing the Sveti Spas' iconostasis, every inch of which is covered in decorative and allegorical carvings. Look between the leaves and intertwining vines, and you'll see an angel staying Abraham's hand before he kills Isaac, the head of John the Baptist being offered on a plate, or Adam and Eve. And those three men laboring over a workbench? Those are the Mijak woodcarvers themselves.
Besides the iconostasis, the church features a few 16th century frescoes, and in the courtyard is the sarcophagus of Goce Delčev, one of the fathers of Macedonian independence. A leader of the Internal Macedonian Revolutionary Army, Delčev had been helping to organize the Ilinden Uprising of 1903 when he was shot and killed by Ottoman forces in the town of Banitsa, in present-day Greece.