Skopje's Museum of Contemporary Art
After a devastating earthquake nearly destroyed Skopje in 1963, the international community came to the rescue, contributing aid in the form of money, materials, manpower… and art. A Contemporary Art Museum was among the principal projects for the post-earthquake city, and the artists of the world were determined to help make it something special.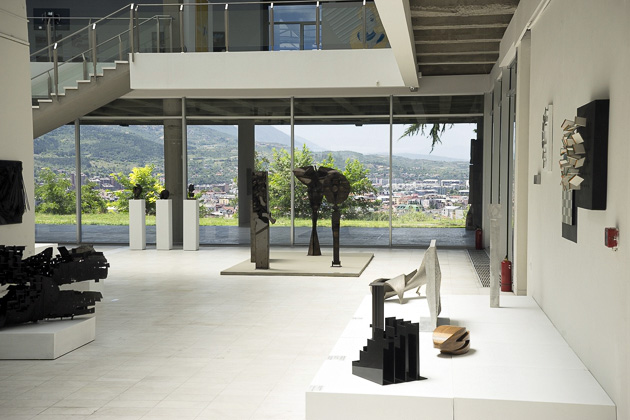 The Museum of Contemporary Art enjoys one of the Skopje's best locations, high on a bluff with views that extend over the Kale Fortress, the Old Bazaar, the Vardar River, and into the city center. The building, a gift from the Polish government, makes exquisite use of its prime real estate. The main gallery of the museum is all windows, allowing visitors to simultaneously appreciate the artwork and the panoramic views.
Following the earthquake, donations came in from some of the best-known artists in the world, including Pablo Picasso, Alberto Burri, Georg Baselitz, Christo, and Robert Adams. So this unheralded museum in little Macedonia has a surprising wealth of top-tier works.
But the world-class art hasn't made the museum a smash hit. In fact, during our trip, we were the only visitors in the place. The building looks run-down from the outside, which might dissuade tourists, and the climb required to reach it is considerable. Also, there's the fact that "contemporary art" isn't the reason most people come to Macedonia.
Even so, there are at least three reasons to visit, each of which easily justifies the laughably low cost of entry: 1) the architecture, 2) the art, and 3) the views over Skopje. This museum has flown under the radar of most tourists, but in any other city it'd be a major attraction. Don't pass it up.