The Kale: Skopje's Medieval Fortress
Thought to have been built in the 6th century AD, Skopje's fortress is its most famous symbol. The Kale (pronounced "kah-lay," not like the vegetable) is located atop a hill on the northern side of the Vardar River, providing it a commanding view over the old town.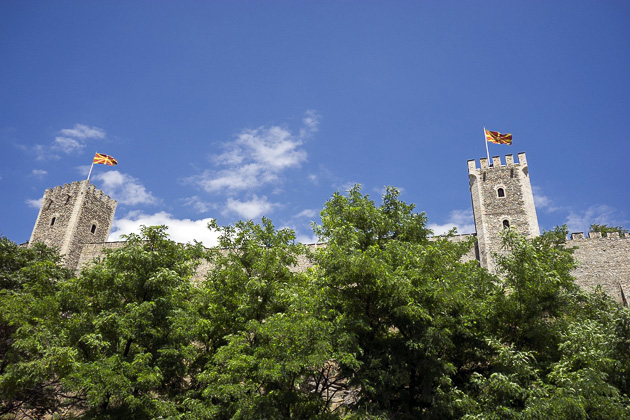 Scholars believe that the fortress was constructed under the orders of Byzantine Emperor Justinian I, who had been born in the nearby city of Tauresium. The Kale was renovated in the 11th century, after damage sustained during the Bulgarian-Byzantine wars. Once the Ottomans took over the city, the fortress was expanded and given an a extra set of walls.
Much of this is speculative, because it's only recently that the fortress has been treated as an archaeological site. The first academic digs began in 2006, and uncovered evidence of human activity dating back to 3000 BC. The site has always been an attractive area for settlement, and it's not hard to see why. High on a bluff with excellent visibility in every direction, and on the banks of an important river, this is a natural spot for a fortress.
Unfortunately, there's not a lot to see within the Kale itself; archaeologists are still excavating the site, but they're doing so slowly. The city had begun to build a church-shaped museum within the fortress, but this caused a violent confrontation between Muslims and Christians, so now there's only a sad-looking metal skeleton. And there's no information to describe the few ancient ruins which have been unearthed around the site.
The Kale is a work in progress, but it's still worth the effort of visiting. You can walk along the walls, which have been nicely restored, and even climb a couple of the turrets. There's also a cafe-restaurant with tables facing the river, where you can rest your legs after your explorations are complete.