For 91 Days in Macedonia – The E-Book
We spent three months exploring one of the most undiscovered corners in Europe: Macedonia. We didn't know what to expect before arriving, but this small, land-locked country in the southern Balkans never stopped surprising us. Whether hiking through pristine nature, fattening ourselves up on its incredible cuisine, learning about its history, or just meeting some of its famously hospitable people, we enjoyed every minute we spent in Macedonia.
We've now collected our blog into an e-book for your Kindle, Nook or other e-reader. With over 250 full-color photos and 100 articles, indexed alphabetically and by category, this portable edition is perfect for when you're out and about. Over the course of 91 days, we explored almost every inch of the country, from Skopje to Ohrid. We embarked on a lot of hikes, visited some mountain villages which time seems to have forgotten, and uncovered some hidden gems which few other tourists get to see. And we're sure that our articles, anecdotes, advice and pictures can help inspire your own trip to Macedonia.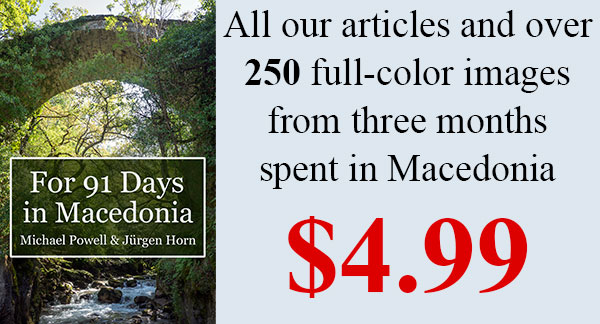 For just a few bucks, you can download your own copy of the book for use on your e-reader or computer, giving you access to our articles wherever you are, without having to connect to the internet. And, buying the e-book is a great way to support our project… take a look at some sample pages from the PDF.