The Memorial House of Mother Teresa
In 1910, a child named Anjezë Gonxhe Bojaxhiu was born to an Albanian family in Skopje. Raised a Roman Catholic, Anjezë received God's calling at the tender age of 18, and gave her life over to the church and the care of the world's least fortunate. She took the name Teresa and spent the rest of her days making the world a more humane place.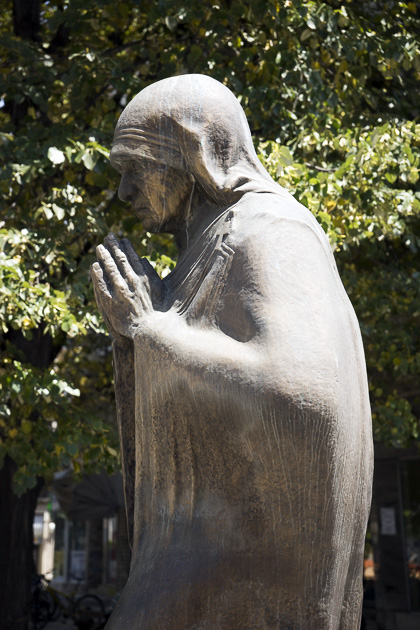 The Mother Teresa Memorial House looks nothing like I thought it would. We're talking about the memorial house for a nun, after all, and I must have unconsciously expected somber, austere architecture. But this place is crazy! It's a nonsensical amalgam of various styles and elements, with stone arches, domes, a glass box, white plaster doves, all of it completely asymmetrical. Sadly, this wasn't actually the house in which she lived. Her childhood home had been destroyed in the 1963 earthquake, and the Memorial House was built in 2008 on the site of the church in which she had been baptized.
The house is free to visit and includes a gallery on the second floor dedicated to Mother Teresa. I didn't know much about her apart from "helped Indians" and "hated contraception," so I had been hoping for a detailed explanation of her life and works. But instead, the gallery consisted of some memorabilia: letters, relics, awards and photographs with other famous people. Still interesting, but essential only for die-hard Mother Teresa groupies (you know they're out there).
After finishing with the exhibits, we went into the upper-floor chapel, whose glass walls let in the sun beautifully. Mass is held here twice a week, for the faithful. For the rest of us, there's a well-stocked gift shop on the bottom floor, selling books about Mother Teresa along with the usual lineup of Macedonian mugs and postcards.
Mother Teresa is almost certainly Skopje's most famous native. It seems so unlikely that a young Albanian girl from a town on the outskirts of the Ottoman Empire could achieve such international celebrity, simply by caring for her fellow man. But why not? People get famous all the time for far less noble reasons, so it's nice to remember this woman who dedicated her life to helping humanity.